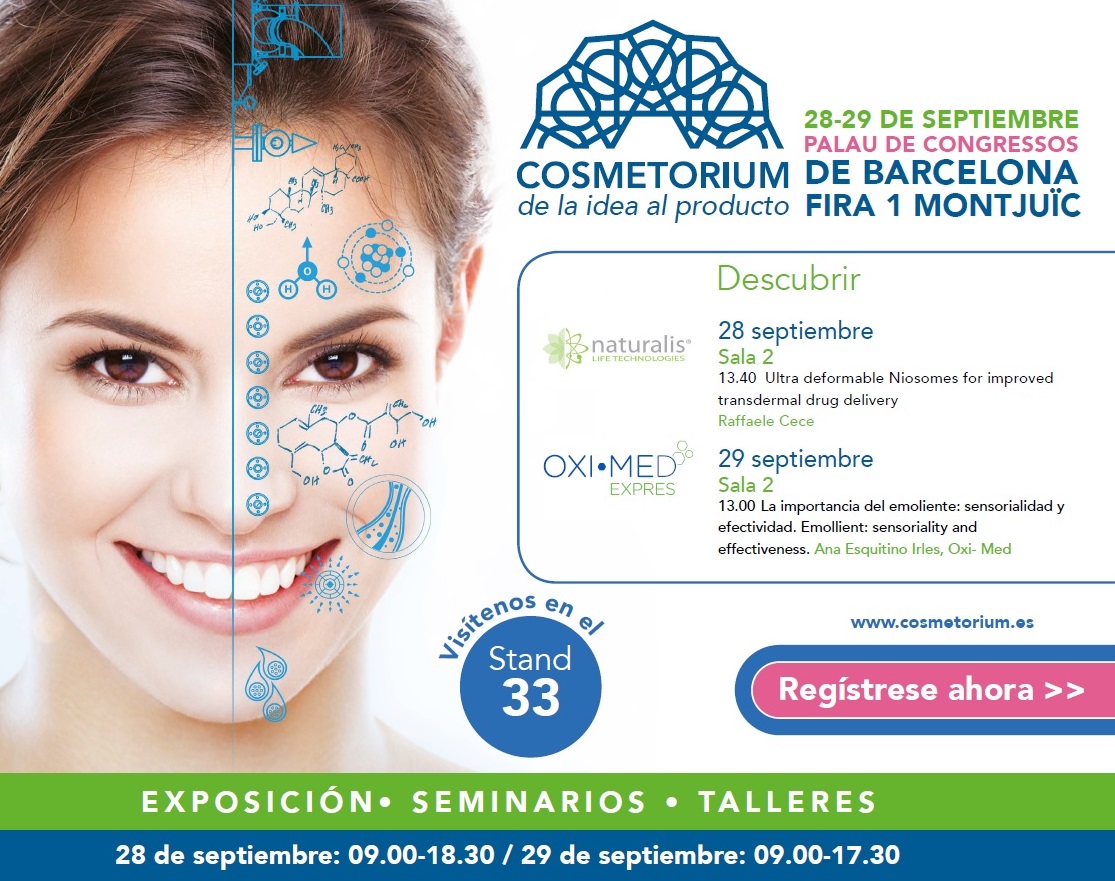 Oxi-Med will attend the Cosmetorium exhibit that will be held in Barcelona on 28 and 29 September.
We will be a Stand 33.
Oxi-Med Oxi-Med will also participate in two technical sessions of the Tech Focus program. These two sessions will be held during the event:
29 September – 13.00 to 13.20 (Room 2) "The importance of emollient: Sensorial qualities and effectivenes", organised by Ana Esquitino.
28 de Septiembre – 13.40h a 14.00h (sala 2) "Ultra deformable Niosomes for improved
transdermal drug delivery", a cargo de Dr.Raffaele Cece – Managing Director de nuestra representada Naturalis.
Cosmetorium has been devised with the aim of establishing a complete forum on the formulation, manufacture and distribution of cosmetic products, responding to the needs of professionals in the sector and highlighting the importance of Spain as a centre of excellence in the cosmetics industry.

Cosmetorium is an unmissable event for anyone who wishes to:
Develop products that offer results, are stable and comply with regulations
Increase efficiency, improve productivity and reduce costs
Discover the latest technologies and techniques
Find competitive prices in the market and undertake new investment
Learn about good manufacturing practice and hygien
Design, manufacture and sell products in a controlled, secure and audited manner
Research improvements in effectiveness, returns, application or appeal
Comply with the legislative framework
Design and purchase packaging to improve the success of a brand
Improve access to the market and make manufacturing practices more flexible
Learn from the experiences and successes of other brands
Maintain quality, safety and stability
Identify opportunities based on market information and trends